InstallAware recognizes the needs of systems administrators handling complex software deployment tasks, and offers unique mechanisms by which setups developed by third-parties can be seamlessly and silently integrated into your own installation routine.
Shell to Windows Installer
InstallAware enables you to execute any MSI setup, using either the original setup database or the product code to:
Detect installed products,
Install a new product from scratch,
Re-install an existing product,
Upgrade an existing product,
Change the installed feature set for a product, or
Uninstall a product,
all as part of your main InstallAware installation. Unnecessary reboots are eliminated and you have the power to deploy all kinds of software in a single pass, each configured exactly the way you want it - and all within a single installation run.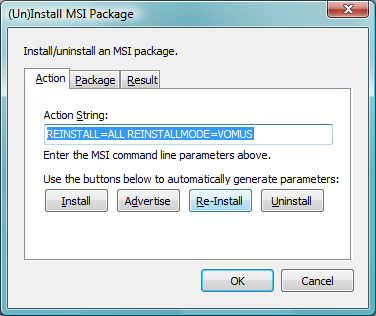 No re-engineering
The power of shelling to Windows Installer means you can rely on the intent of the original setup author to properly install products, the way they were meant to be installed. Resolve conflicts and get software to work together naturally - without guesswork and causing unintentional damage to correct setup logic.
Capture progress
You may even capture the progress of the setup you are shelling to and display it interactively as part of your own installation. Captured progress may also include user prompts or error messages. Or, if you prefer, you can execute the entire installation silently.