The InstallAware Transformer InstallTailor is your tool when you need to rapidly customize MSI installation packages with MST transform files tailored to the needs of your organization. First, you select the MSI installer to transform, and then click the Transform button.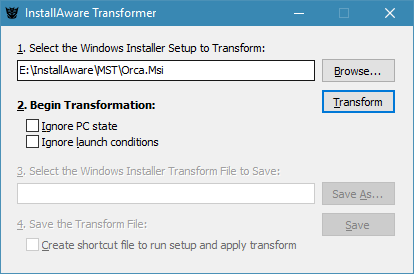 This launches the native user interface of the MSI setup, letting you make your choices as if you were normally installing the package. Select features, customize installation folders, and choose your installation options. When you finish this installation interview, the MSI file you chose will not actually be installed, but all of your preferences will be captured by the InstallTailor.

You may then review the captured changes to default MSI properties, directories, and features - customizing these as necessary, and excluding unneeded changes. You are now ready to save your MST transform file - along with a shortcut file (.LNK) to automatically install your MSI with your new MST transform file pre-applied. And of course, you may ship your MSI with your MST through Group Policy across an Active Directory network, or use InstallAware's Direct Deploy.