Keeping your users up-to-date with the latest security updates or bug fixes can be difficult, and unpatched products tie up your company's support resources when users call your help desk and learn about an important patch that's already been released. To solve these problems, InstallAware now provides an automatic way to distribute web updates. Unlike other products that charge extra for this capability based on the number of users, InstallAware includes web updates in all product versions, and doesn't ever charge you extra for usage.

The completely integrated Web Updates view lets you create updates, select product versions to apply them to, and configure the update schedule. When built, your application setup will include an update client that can operate in one of three web update modes. The Scheduled Update mode integrates with the local Windows Task Scheduler to retrieve updates from your website and install them automatically, if desired. What's more, the update client can be minimized to the system tray, and it behaves exactly like Windows Update for a completely standard user experience. The Manual Update mode inserts a shortcut into the Start Screen or the Start Menu and waits for an end-user click. The Automatic Update mode enforces updates and guarantees the latest version of your application will get installed as long as an Internet connection is available. This mode is also ideal for building dynamically updated product bundles with your application. Regardless of your selected mode, no stand-alone browsers or HTML pages are launched at any time.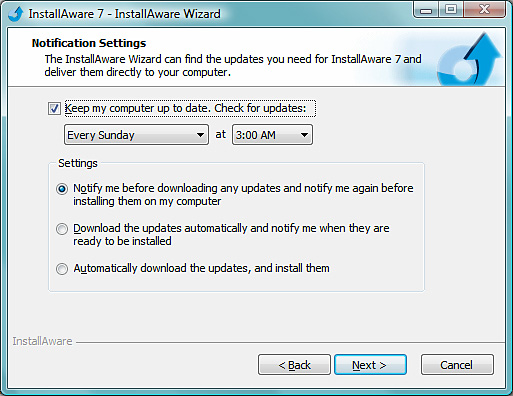 InstallAware also provides you with the full MSIcode sources of the web update client. This means you can fully customize not only the update client interface (dialogs, icons, etc.), but also the update logic. While the built-in functionality works out of the box and covers virtually all conceivable update scenarios, InstallAware makes it very easy for you to tweak everything to your liking. For instance, you can easily use the Automatic Web Update Mode as the target of your main application shortcut, guaranteeing that any time your application is run, its latest available version will be run.