One of the challenges in administering large groups of networked computers is managing and automating the installation of software products across the entire network. Exclusive to InstallAware is the capability to push any EXE file across an Active Directory domain, without requiring any specialized client or server software - this technology is called InstallAware Direct Deploy. Create your own cloud, public or private, using InstallAware Direct Deploy.
Of course, traditional Group Policy MSI deployment is also fully supported with InstallAware. In tandem with Windows Installer, InstallAware offers silent execution, logging, and command-line configuration options. This makes push installs possible over a large number of systems.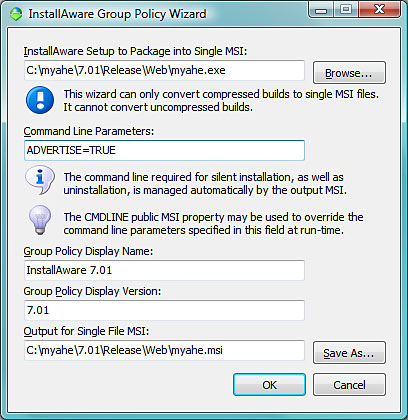 What's more, InstallAware setups can even detect that they are being silently executed, and perform additional tasks accordingly. Because nothing is hard-coded in InstallAware, the setup developer has full freedom in accomodating deployment needs as they arise.
Most large corporations - the customers you really want to have - will not even consider applications that are not available with an MSI installer, no matter how good the application is. Large corporations need to have an unattended way to silently install, maintain, and uninstall packages onto their thousands of networked systems. With an MSI package, they can use Microsoft's built in Group Policy settings to deploy your product onto all of their machines, instantly, using Active Directory Deployment. Having an MSI based setup guarantees you aren't losing any large prospects just because your installer is custom-made.