InstallAware Digital Rights Management is available in all InstallAware editions, beginning with InstallAware 12.

Take a look at some of the compelling benefits of InstallAware DRM:


Protect applications with absolutely zero changes to source code
Win32, Win64, and .NET applications are supported - 100% protection for you on the Windows platform
A combination of trialware parameters are available:

Actual metered usage

Number of hours your application has been run live
Number of minutes your application has been run live

Pre-set expiration

Number of launches
Number of days

A hard-coded expiration date
Number of days since installation

Two DRM modes are available:

Try-And-Die: If you want to use your own ecommerce provider after expiration
Try-And-Buy: Instantly sell inside your application, during the trial or after expiration, via Softwrap


Wrapping your applications with InstallAware DRM happens as a completely seamless part of building your setup - whether you are building from the command line, from the IDE, or even from the automation interface.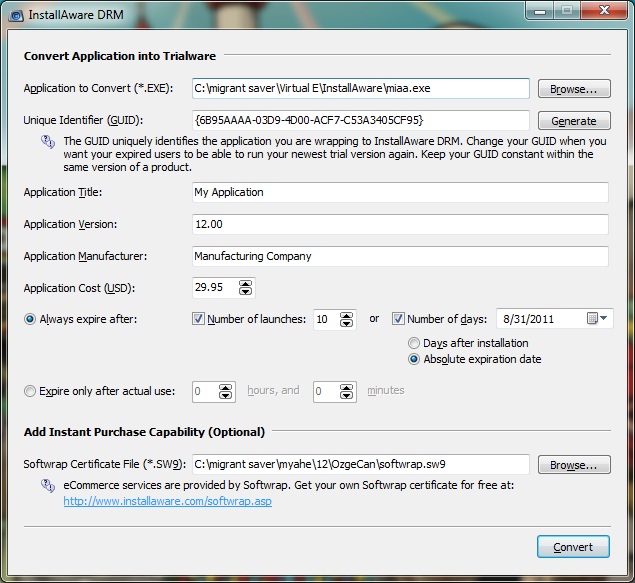 A stand-alone InstallAware DRM tool is also available, for when you want to manually wrap your applications with fine tuned control over all available wrapping parameters. The stand-alone InstallAware DRM tool may also be invoked from the command line in silent mode; helping it participate in automated build processes such as batch files.